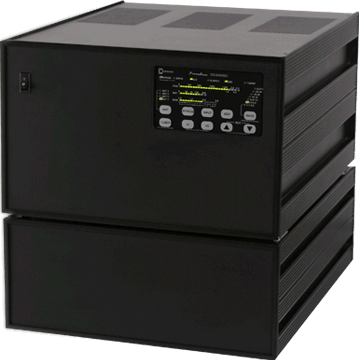 Amateur Radio's First Solid-State Legal-Limit+ 160-10m HF Amplifier
Prometheus is the result of 10,000 hours of research and development over a five year period, offering serious radio amateurs unmatched performance and reliability.

Put some fire in your wire
ATTENTION CONTESTORS! SO2R (Single Operator 2 Radio) option allows SIMULTANEOUS transceiver operation through the amplifier with TWO exciters. Push button control or NO TOUCH PTT selection of controlling (amplified) transceiver! (See options tab for more detail).
With no tuning and no warm up time delay, the Prometheus provides reliable power instantly so that rare DX station doesn't get away.
The design of the Prometheus is the result of over 10,000 hours of research and development, encompassing hundreds of hours of mathematical analysis, computer simulation and modeling, and numerous prototypes and experiments spanning over a five year period. The result is a rugged, commercial quality amplifier designed to run cool under 1500W continuous SSB, CW or RTTY, with special ferrite transformers and combiners designed for full power operation even on 160 meters. Although our custom transformers are more expensive and difficult to manufacture than competing designs, they do not saturate or heat up beyond the Curie point, thereby becoming irreversibly damaged and destroying the RF transistors in the process.
The single corporate focus of the entire DX2400L1 system is to be the most powerful, most robust, most durable, most heavy duty legal limit PLUS solid state amplifier ever available, regardless of cost. Period.
The DX2400L1 system is purposely over-engineered, using the very best components and materials that can be located, regardless of cost. If we can not locate components good enough to do the job, we manufacture them ourselves. No compromises have been made to meet a delivery schedule or just to lower the cost and improve the bottom line. Prometheus is built the way you, the discerning radio amateur, would build it for yourself if you had the time, money, and inclination to do so. Why wait? Your dream and perfect wish list amplifier is a reality right now!
Band switching is completely automatic when interfaced with the transceiver through CAT, CIV, RS232 or TTL (older Kenwood or Yaesu). Lacking these interfaces, near instantaneous band switching is accomplished by sampling the incoming exciter signal. Additionally, the band switch is controllable remotely over the RS-485 interface via PC or the optional remote control head. Interface is via plain text ASCII printable commands.
Full Loop Keying QSK module with vacuum relay is standard. Fully solid state PIN diode QSK switching is available as an option.
12/10 meter modification is possible for properly licensed amateurs.
The amplifier carries a one year limited warranty on parts and labor against defects in materials and workmanship, excepting the RF power devices which are warranted separately via the manufacturer. The power supply transformer carries a lifetime warranty from the manufacturer.
The DX2400L1 is designed and manufactured in the United States of America by a 100% American owned company that uses components from other American companies when possible.
2400 W PEP total rating of RF power transistors.
Cool running 4800W Switching Power Supply (SPS4800) or Extra Heavy Duty DC Linear Power Supply (LPS4800) is the most powerful in the industry with 12 and 7 KVA peak ratings respectively.
Fully Automatic Band Switching: The DX-2400L1can be controlled (optional converter may be required) with the transceivers band data through CAT/CIV/RS232 style optically isolated interface.
For older transceivers without band data, the DX-2400L can sample the incoming RF drive and determine the proper band of operation under microprocessor supervision.
Dual control inputs allow operation from two different radios.
SO2R (Single Operator, 2 Radios) option.
Four Position Antenna Switch with automatic memory for last antenna used for each band.
Vacuum antenna relay as standard equipment. PIN diode T/R switch available as an option.
Full Loop QSK Keying to interlock transceiver and amplifier.
Digital Bargraph Display for Forward Power, Reflected Power and True (computed) SWR.
Optically Isolated RS485 remote interface operating either full or half duplex allows operation up to 1500 feet away through one or two twisted cable pair with optional PC adapter and software package or optional remote control head.
Optically isolated remote on capability from transceiver +12V Auxiliary jack.
Full optic isolation of all control functions (Key In, Key Out, PTT, Band Data, Remote On) from transceiver as well as full isolation of computer /remote interface port.
ALC: Negative going from 0 to -10 Volts, adjustable. SWR-ALC foldback protection.
Protection circuits: SWR overprotection circuit. Over temperature warning and shutdown protection. Over / under voltage lockout protection. Overdrive protection. Hardware failure protection (combiner balance, PIN T/R failure)
FLASH Microprocessor allows field upgrades of amplifier firmware.
Separate low voltage control transformer for bias and microprocessor circuits reduces power consumption in continuous standby mode and allows metering of transceiver when in bypass mode.
Low Pass Filters constructed with 12 gage coils and custom high power capacitors.
Oversize (30 lb) heat exchanger and 4 thermostatically controlled, ball bearing, variable speed cooling fans mounted in push–pull configuration for redundancy.
Sturdy, 1/8" thick extruded aluminum cabinet with precision laser machined 1/8" thick chassis, front and rear panels finished with textured black paint over yellow irridite finish.
Hardware interface for support of optional antenna tuner.
Optional Rack mount package.
1 Year Warranty on Parts and Labor, excluding RF transistors. Extended warranty available.
LPS4800 Linear Power Supply Additional features:
Microprocessor controlled soft start circuit.
Oversize 70 lb. 7KVA peak, 5 KVA continuous rated self shielding toroid transformer with manufacturer's lifetime warranty is removable for UPS shipping.
Oversize, 40 lb, self shielding, toroidal filter choke with manufacturer's lifetime warranty.
50,000 uF filter capacitance, stud mounted rectifiers on individual heat sinks with thermostatically controlled ball bearing cooling fan.
The power supply wiring is one gage number larger than required. All power supply load-carrying connections throughout the machine are bolted instead of soldered. Critical connections are doubled for redundancy. The internal 1/8 inch formed aluminum chassis is bolted the full length of the extruded side panels as well as to the front and rear panels to give exceptional structural integrity. The internal chassis mounted components are screw mounted to premium threaded PEM ® inserts instead of nuts so there is no hardware to get lost. The front panel is captured to the side panels using grooved extrusions, while the front panel secures to the chassis with more expensive, blind threaded studs, leaving a completely smooth front surface.
Only one mechanical rocker switch breaks the smooth plane of the front surface, making the unit easy to wipe clean. The industrial design is intentionally smooth and flat so that there are no knobs or buttons to grab your fingers or shirt sleeves.
The exclusive, flat switch and LED assembly is assembled on a gold plated circuit board with nickel plated stainless steel switch domes instead of using an inferior, inexpensive polyester and silver ink membrane switch. The graphic overlay is constructed from durable Lexan ®, the same material used to manufacture bulletproof glass. The control mounts to the front panel from behind so as to protect against ingression of typical cleaning agents through the exposed sides of the switch layers. An extra wide guard band of adhesive is used around the switch perimeter to aid in the sealing and resist delaminating. Even the front panel surface is textured to resist unattractive fingerprints.
The clever mechanical design ducts air past the transformers and assists in the cooling of the PC board components.
The extruded aluminum sides and frame are black oxide anodize finished, while the front panel and covers are finished in textured carbon black powder coating over a yellow irridite finished aluminum. The internal aluminum parts, heat exchanger and back panel are finished in yellow irridite or superior corrosion resistance.
A plethora of features are designed into Prometheus to protect against amplifier damage. Two independent systems simultaneously monitor critical amplifier operating parameters in both hardware and software. A custom hardware protection circuit is implemented in an FPGA to provide shutdown INDEPENDENT of the microprocessor. In the event of software or microprocessor failure the hardware protection circuit is still operating. At the same time, the microprocessor monitors the same critical parameters independent of the hardware protection circuit which provides another measure of protection should the hardware protection circuitry fail! This doubly redundant level of protection is key for mission critical protection, and another Dishtronix exclusive innovation.
However, first and foremost, the best SWR protection is the over design of the 2400 Watt RF deck which at the 1500 Watt legal limit allows for nearly 900 Watts of headroom, nearly as much as the rated output of "competing" solid state amplifiers!. If the phase angle of the mismatch was purely resistive (0°), the amplifier could technically dissipate 900 Watts of reflected power, or an SWR of 7.9:1! However, in the real world, the mismatch is rarely resistive. Combinations of mismatch can cause either excessive currents to flow in the transistors which destroy either the die or the wire bonds, or excessive voltages to appear on the drains, puncturing the transistor die.
The current of each push-pull module pair is carefully monitored, and special attention has been given to not exceed the device breakdown voltage. Our special high voltage MOSFET transistors are another Dishtronix first in an amateur amplifier and provide another measure of protection against VSWR damage!
If excessive or unbalanced currents are detected, the microprocessor control takes the amplifier offline. If the currents further exceed the safety level, the hardware protection circuit reacts instantly to take the amplifier off line.
Further, at a reflected power indication of approximately 150 - 200 Watts or an SWR of 1.9 - 2.2:1 at 1500 Watts output, ALC is generated to keep the exciter operating in the safe operating area.  
Finally, at 200 - 250 Watts of reflected power, or an SWR of 2.2 - 2.4:1 at 1500 Watts output, the microprocessor places the amplifier in standby until the keying line is released. The fault count is increased and stored in nonvolatile memory so that if the unit is returned to the factory for repair, excessive abuse can be detected.  
As a last resort, at 300-400W of reflected power, the hardware protection circuit implemented in a custom FPGA reacts to shut the amplifier down immediately.
If the amplifier is over driven an attenuator can be switched in. If the amplifier is overdriven with the attenuator in line, the microprocessor and hardware protection circuit takes the amplifier into standby until the keying line is released. Of course, temperature and voltage are also monitored by both protection systems. Even the optional PIN diode QSK system is monitored for failure!
lightning protection is implemented on the antenna terminals and the antennas are DC grounded to prevent static buildup which can attract lightning.
As should be plainly evident, every failure mechanism discovered by Dishtronix has been considered and some form of protection implemented to the best of our ability. If you demand the most robust amplifier possible, you should seriously consider the DX2400L1 system!
SO2R (Single Operator, 2 Radio) Option:
The SO2R option allows two transceivers to be connected to the DX2400L1 system and operate simultaneously while sharing the amplifier between them. The SO2R option either one of the two transceivers to take control of the amplifier and be amplified, while simultaneously allowing the opposite transceiver to either receive or even transmit on a second antenna! The ultra flat drive requirements and fast band switching and NO TUNE performance of the DX2400L1 makes this breakthrough technology possible. Our newly designed hardware innovation even makes SO2R operation possible while operating full break in QSK!
SO2R is usually used by ultra hardcore contest stations to work a station on one band, and then switch to a second band to achieve a score multiplier bonus points, or to tune on receive and find the next contest contact while the station computer transmits the contest station data in conjunction with automatic logging utilities, etc. Previously, two transceivers and two vacuum tube amplifiers on two different antennas were used for SO2R because even with motorization and servo tuning, automatic vacuum tube amplifiers can not change bands fast enough. This option eliminates the need and expense for a second amplifier.
Transceiver selection can be made by the front panel, or by optionally enabling PTT / Full Loop Keying Auto selection ( "Voting mode") from the DX2400L1 setup menu. With "voting mode" enabled, the amplifier will switch automatically to amplify whichever transceiver is keyed first. The secondary transceiver can still transmit, but will be ignored until both activation lines are back in receive for a short time period.
When SO2R "voting mode" selected, both transceivers must use the same type of keying, either the PTT line, or preferably Full Loop QSK style (such as found on modern contest grade transceivers). Voting mode will not work with one transceiver using PTT keying and the other transceiver using full loop keying. In this instance selection must be made from the front panel A/B switch. Alternatively, you can purchase a second DX2400L1 amplifier for your top gun contest station!
Full Break In QSK PIN Diode Option.
Transceive turn around times with the standard vacuum relay in the PTT mode is approximately 25-30 ms, and reduced to approximately 10-15 ms while in the standard QSK full break in mode, which is entirely fast enough for high speed conversational CW. However for some full break in digital modes a higher transceive function turn around time may be desired. For these applications Dishtronix offers the high speed PIN Diode QSK module. The PIN diode QSK module is completely silent with no detectable relay sound whatsoever, and designed to handle the full power capability of the DX2400L1 system, withstanding greater than 3:1 SWR at 1500W continuous CW. The independent subsystem module features its own independent bias and operation power supply, built in hardware fault detection, replaceable fuse protection, and uses premium high voltage, high current PIN diodes from MA/Com on a large heat sink. The PIN Diode QSK Module Option may be either installed at the factory or be field retrofitted at a later time. Note that full break in operation of the PIN diode QSK module requires an exciter equipped with full loop keying, or an external keyer, just the same as the standard DX2400L1.
Rack Handle Option.
Rack handles are available only at the time of order. Retrofitting rack handles requires complete and major disassembly of the amplifier chassis. Contact the factory for more information.
Extended Separation Interconnect and Cables.
The standard interconnect cable length is 36 inches. The standard AC power cable is 6 feet. Contact the factory for quote if longer lengths are desired.
SPECIFICATIONS: DX2400L1 PROMETHEUS HF LINEAR AMPLIFIER
Frequency:
All amateur bands 160 – 15 meters, 12 / 10 meters with license modification.
Power Output:
1500 W PEP (SSB), 1500W (CW/RTTY), 375W AM1, minimum.
Duty Cycle:
100% Continuous Duty at 1:1 SWR. Derate above 30° C ambient.
Input SWR:
Less than 1.5:1.
Bypass SWR:
Less than 1.5:1.
Output SWR:
2:1 Maximum.
3rd Order IMD:

More than 30 dB below PEP.
Harmonic Suppression:
More than 45 dB below carrier.
Input Voltage:
230 ± 10 VAC, 50/60 Hz, 5 KVA (LPS4800)
180-264 VAC 50/60 HZ, 14 KVA (SPS4800)
Dimensions:
DX2400L1 RF Deck
LPS4800 Linear Supply
SPS4800 Switching Supply
10.5 H x 172 W x 223 D inches.
7 H x 172 W x 223 D inches.
7 H x 172 W x 223 D inches.
Weight:
DX2400L1 RF Deck
LPS4800 Linear Supply
SPS4800 Switching Supply

55 lbs.
120 lbs.
54 lbs.
Notes:
1: @ 100% modulation
2: 19 inches wide with rack mount option.
3: 24 inches deep with rack mount handles.

Designed and Manufactured in the United States of America by a 100% American owned company that uses components from other American companies when possible.


MADE IN USA
PATENTS PENDING

Manufacturer's Suggested Retail Price for 3rd Quarter 2009

DX2400L1 RF Deck and SPS4800 Switching Power Supply

DX2400L1/S
$10,850
DX2400L1 RF Deck and LPS4800 Linear Power Supply
DX2400L1/L
$11,300
DX2400L1 RF Deck and both LPS4800 and SPS4800
DX2400L1/SL
$14,300
PIN Diode T/R System (internal)
DX2400PIN1
+$995
SO2R Option (internal)
DX2400SRR1
+$695
Rack Handle Option
DX2400L1/SR
DX2400L1/LR
+$200
Extended warranty for Year 2
+$1000
Extended warranty for Year 3
+$1000
Terms:
All pricing is F.O.B. Bellefontaine, Ohio 43311
50% deposit by check / MO on DX2400 system.
DX2400 orders are non-cancellable, non-refundable.
Q: Why is it so expensive? 
A: Cost is a relative term.  Some commercial HF military units of similar capability cost in the USD $40,000 range.   In the broadcast industry, the cost is approximately $5 - $10 USD per watt, EXCLUDING the power supply! The power supply would cost an additional $2 - $3 USD / watt. By contrast, the Prometheus cost is around $4 USD per Watt, INCLUDING the power supply! Prometheus is meant to be the highest quality amplifier on the market, not the lowest price amplifier in the market. It costs a lot of money to be the best. Consider that the Prometheus has more than twice the material and output power of a major competitors solid state 1KW amplifier, yet the cost is not twice as much. The Prometheus is the only solid state amplifier in the amateur radio market at any cost rated for continuous CW, SSB or RTTY operation at the legal limit of 1500W. Also be certain that you do not compare apples to oranges. Prometheus is a no tune solid state amplifier, not a manually or automatically tuned vacuum tube amplifier. Everyone knows that the cost for solid state power is twice that of vacuum tubes, yet Prometheus costs no more than another well known brand of auto-tune vacuum tube amplifier. Considering these facts, Prometheus is quite affordably and reasonably priced. It probably is one of the best bargains in ham radio. We are selling the amplifier at such a low price because we are a new player in the amateur market. It is highly likely that in the future the price will rise. We have had to nearly double the introductory price in the last 5 years because of drastic increases in the cost of materials and inflation. Price is only guaranteed at the time of order.
Q: I think it really needs an antenna tuner. Why doesn't it have one?  
A: Frankly, we can not justify an internal antenna tuner at this time for several reasons:
First examine the specifications of amplifiers with built in tuners.  Most tune from 16-150?, which equates to a 3:1 SWR. Consider that the Prometheus is rated to operate into a 2:1 SWR at the legal limit, and does not throttle back the ALC until approximately an SWR of 2.5.  This is one reason why the Prometheus has 900W of headroom above the legal limit of 1500W. At 2:1 SWR 10% or 150W of power at the 1500W legal limit is reflected. Simply run at 1650W forward power, well within the capability of the Prometheus! NOTE! Dishtronix believes this operation is within the scope of legal operation according to CFR 47, Part 97 rules, but it is the responsibility of the STATION OPERATOR to insure that the station is operated legally, including and not limited to meaning that power output for a given license class is not exceeded. Note that some other countries such as Canada have a higher limit than the USA. As with most things in life, "If in doubt, DON'T!" is good advice.
A good antenna system provides much more performance than an amplifier. Therefore, the amplifier is the last thing that should be done to improve station performance. At this level of cost and performance, it is expected that the station consists of several resonant antennas, such as a log periodic beam, multiband vertical, and transmitting loop for the lower bands. Beam antennas and multiband verticals are not designed for use with a tuner. Transmitting loops generally have a link coupled tuner incorporated into the feed point. Hence a tuner is only relevant on an accessory dipole utilized for casual use.  If it becomes such an issue, insert an external tuner for the problematic antenna and leave it set for that band. Don't forget the Prometheus has four internally switched antenna outputs. Put an individual stub tuner on each antenna if necessary!
Consider the Prometheus is capable of over 2400W output. How many 2400W automatic antenna tuners are there on the market? The problem becomes one of obtaining suitable high voltage capacitors which are not normally available. Also circulating currents are so large that if using relay style antenna tuners the contacts can fuse (weld) under some conditions which is a reliability issue. Further, a 0.2dB insertion loss (typical of a VERY well designed tuner) equates to a 5% power loss or 120W at 2400W output. So the 2400W amplifier can now only safely deliver 2280W. Further a tuner would greatly increase the cost of the unit and possibly decrease from its mission statement to be as reliable as is technically possible. 
Is an amplifier truly a "no tune amplifier" if it requires an automatic antenna tuner?
Dishtronix is aware of these issues and working to solve them. We may offer an antenna tuner some day. You could wait and see if one ever becomes available, or you could order your amplifier today and be on the air with solid state power at the legal limit with a comfortable margin of power.  One thing you can be certain we will NOT do is offer something that is flimsy, marginal or otherwise not up to the performance level expected and required to be the best, just to convince you to buy an amplifier!    
Q: What do I do if you decide to quit manufacturing the amplifier because not enough people buy them or if you go out of business?  Where do I get spare parts?
A: This is a risk you take when you buy ANY product, not just an amplifier from Dishtronix.  Having been in business 8 years before producing our first amateur products should indicate the level of commitment the Company has to its product line and customers. Dishtronix does not only serve the amateur market. See the About Us and Manufacturing pages for details. Further, the majority of the parts we use are available through distribution from places like Digi-Key and Mouser Electronics. One thing to consider is that you are purchasing a professional product designed by professional engineers to be very reliable, not something someone has done as a hobby or as a kit. Chances are you won't need those spare parts with all of the levels of protection built into this unit.  The Prometheus control board has over 1000 components on it dedicated to the safety and well being of your amplifier.
Q: Some other people are using multiple processors in their amplifiers. That seems more technologically advanced than your single processor design?  Why do you think a single processor is better?
A: The more complication you add to a product, the less reliable it becomes. Multiple processors means multiple clock signals, increasing the susceptibility of the unit to EMI and radiation, and increasing the possibility for radiated and conducted EMI emissions. Our processor is used in a supervisory capacity only for communications with the outside world. The important functions are implemented in hardware so that when the software (inevitably) crashes, the amplifier is still protected. We rely heavily on integrated circuitry to implement custom hardware in an ASIC design rather than multiple processors. 
Q: This other manufacturer brags that he has 10,000 lines of code in his processor making him the most advanced manufacturer in the world. What about you?  
A: Is the other manufacturer's program written in a high level language, or is it in assembly language? Everyone knows that C style compilers produce for the most part terribly bloated code. When performance and speed is required, the software engineer has to drop out of C to assembly and optimize his routines.  Why not just optimize the entire program from the beginning?  The answer is because it takes longer.  The philosophy at Dishtronix is that any job worth doing is worth doing right. That's why we program and optimize our entire firmware in assembly, and possibly why we can fit our software into a single processor without resorting to more processors and additional software! Would not the truly superior product have LESS code rather than MORE code to do the same job? Isn't that the definition of efficiency?
Q: Why don't you have all the bells and whistles that this other manufacturer has? Why is the control panel so simple?
A: Simple is good! The job of the amplifier is to amplify the signal! It should ideally be transparent to the operator. Unnecessary bells and whistles don't make the signal louder. Rest assured that the sophisticated control assembly inside the Prometheus is monitoring everything necessary to keep your amplifier healthy. Don't forget that the amplifier is designed to be remotely mounted, for example in the basement near the fuse box and antenna feeds, where the bells and whistles can not be seen anyway. Do you really need another unnecessary control to distract you during contest operation anyway? The Prometheus design is purposely understated. It doesn't need bells and whistles to declare its value. It simply makes BIG signals out of little ones!
Q: This other manufacturer brags that he has the lightest amplifier in his class.  Why is yours so heavy? Isn't lighter better?
A: Lighter might be better if you are backpacking and running QRP. How often do you go backpacking with your amplifier? By definition QRO is the opposite of QRP!  We are aware of other manufacturers solid state units. It appears that those amplifiers weigh about as much as our heat exchanger, and are about the same size or smaller!  However, do not forget that the key to longevity in any electronic equipment is to get rid of the heat! If you lighten the product you sacrifice performance and longevity.  When choosing a solid state amplifier do this simple test. Take the other amplifier and set it up in identical conditions beside the Prometheus and set the brick on the key. Don't purchase the one that blows up first (or goes into protect mode and quits transmitting). FYI, there is no accessory fan needed for RTTY operation to "increase" cooling.
Q: Does it have a detachable remote control head?
A: Not today, but the unit has remote operation capability via an accessory control head or PC equipped with our software and RS-485 interface. We are developing a remote head.
Q: Why do you use RS-485 instead of USB or even RS-232?
A: USB and RS232 are limited in their distance to about 9 feet at best. The RS485 interface is a differential signal over a transmission line and hence can cover longer distances (up to 1500 feet) and is far superior in terms of noise immunity because it is a differential signal.    
Q: What do you mean by 2400W PEP rating and only 1500W CW?  Will it make 2400W or not?
A:  In any amplifier, be it tube or transistor, the output power is limited by the power supply peak voltage. In a tube amplifier, the power supply is unregulated. The filter capacitors charge up and hold the no load voltage. When the amp is keyed, there is now a load on the filter bank and the power supply voltage drops several hundred volts. Since the modulation of an SSB voice signal is generally faster than the time constant of the filter capacitor bank, the voice peaks are limited by the no load voltage of the power supply and hence the peaks voltage swing of the output RF is larger than when a steady carrier is holding the power supply voltage down. The Prometheus power supply is regulated and hence capable of amplifying carriers for a very short period of time at 2400W or even beyond.  However, this sort of operation under high duty cycle is very dangerous to the longevity of the RF transistors  because of heat build up. Therefore we rate the high duty cycle modes such as CW (Morse code), RTTY, etc to 1500W constant output with NO TIME LIMIT. AM carrier is limited to 375W at 100% modulation.  These power levels can be exceeded for short periods without damage but it is not recommended to do so.
Q: This other manufacturer sells a 1500W unit. It says so right here -  1500W input.
A: Be careful, that is INPUT (power supply) power. Typically solid state amplifiers run only 50% efficiency, so his output might only be 750W on some bands. (Don't forget about losses in his filter and tuner!)  FYI the Prometheus DC INPUT power is 4800W, more than THREE TIMES the input power cited in the example. The LPS4800 AC input power rating is 7 KVA peak, more than FOUR times the input KVA mentioned in the example cited
Q: Why do you offer two different power supply options?  What is the difference?
A: One power supply is a linear supply with huge transformers exceeding 120lbs, and the other power supply is a switching power supply weighing only 55 lbs. The disadvantage of the linear supply is that it is much more expensive to manufacture because of the extensive copper use, and is difficult to carry or ship on DX-peditions than the switching supply.  The advantages of the linear supply is that it is more reliable, more robust, and more RF quiet than the switching supply. Personally, N8WFF (the president) prefers the linear supply. You can buy both supplies if you desire.
Q: How much drive does it take to get 1500W out?  A: 55W ±5W, 160-10m
Q: How do I modify it for 10/12 meters? 
A: Send us a photocopy of your license and we will send you new firmware to unlock your amplifier.
Q: Why do you require an external converter for some other radios when some other amp manufacturers build it in? 
A: No longer the case! The final production DX2400L1 can accept CAT, CIV, TTL
(Kenwood or Yaesu), RS232 (Kenwood, Yaesu, Ten Tec) on either of it's two input ports! We added an additional communications port for direct communication over RS422 or RS485 directly with the computer or optional accessories such as the remote display.
Q: Who does your manufacturing for you? 
A: Dishtronix does its own manufacturing on our own equipment. We have pick and place, wave solder, solder reflow, etc.
Q: Is it Type Accepted?
A: Yes, it is Type Certificated by the FCC.
Q: I don't like your membrane switch. I had problem with one of them on my dishwasher.
A: It is not a membrane switch like on your dishwasher. Cheap membrane switches use silver ink printed on polyester and carbon impregnated polymer domes. We use a gold plated circuit board with stainless steel nickel plated snap domes in a polymer carrier. Our switch assembly is more reliable than the switches used in your transceiver. Remember, Prometheus uses nothing but the best!
Q: Why don't you sell through distributors?   
A: We could, but it would cost you more. The distributor isn't going to warehouse an expensive unit like this for nothing. The price we sell at is truly the minimum price that something so expensive to produce can be sold at. There is no guarantee that we can even hold this price given the way copper and aluminum have tripled in price over the last year. Be sure to order now and lock in your price.
Q: I'm sold! Where can I get one?   
A: Prometheus is available by order only. Simply fill out the order form, print and mail with your deposit check. Currently lead times are running 8-12 weeks ARO, but call or email for better shipping estimate. Orders are processed strictly on a served as you come in basis. Please don't ask us to violate this policy. It is not fair to another ham who has paid a deposit and is anxiously waiting.